Indian High Commissioner to Bangladesh highlights the need for enhanced multimodal connectivity at Unnayan Shamannay's seminar
While most of the countries in the world are maintaining strong connections with their neighboring nations due to holistic economic benefits, South Asia still remains the least economically integrated region. As of today, a merger 5 percent comes from intraregional trade out of the total trade made by the South Asians. For that, the countries' full economic potential is far below the desired level. Gravity modelling-based findings revealed that the trade volume between South Asian Countries could be USD 67 billion, if intra-regional trade can be fully utilized. Since independence, Bangladesh has found its neighbor country India as the largest trade partner among the others, mostly because of its close proximity, political and economic benefits. Within South Asia, Bangladesh is the India's largest trading partner, and it is true for the other way around. Economic integration of India and Bangladesh become more crucial due to Covid-19 and Russia-Ukraine war. It is believed that strong intra-regional connectivity can promote and improve global value chain, which ultimately contributes to poverty reduction, livelihood improvement, and economic development. There is barely any alternative to promote intra-regional trade and economic integration in South Asian region.
On May 2, 2023, in a seminar of Unnayan Shamannay, experts met to address the importance of trade connectivity among the south Asian countries, and how multimodal connectivity can uphold overall economic growths in all neighboring countries. Dr. Atiur Rahman, Chairperson of the research firm and the keynote speaker of the event, opined that multimodal connectivity to carry goods can reduce time required for trade, and it serves the same purpose as reducing the tariff barriers. He added that efficient multimodal connection can bring climate benefits through avoiding unnecessary motorized travels, shifting to cleaner transport solutions, improving efficiency of transport infrastructure, and services and last (not the least), strengthening transport system to enhance resilience. It is critical to undertake critical measures to improve connectivity and logistics between India and Bangladesh. There is a potential of 19 percent increase in Bangladesh's exports, and ongoing initiatives to enhance multimodal connectivity, including port infrastructure, railways, and waterways.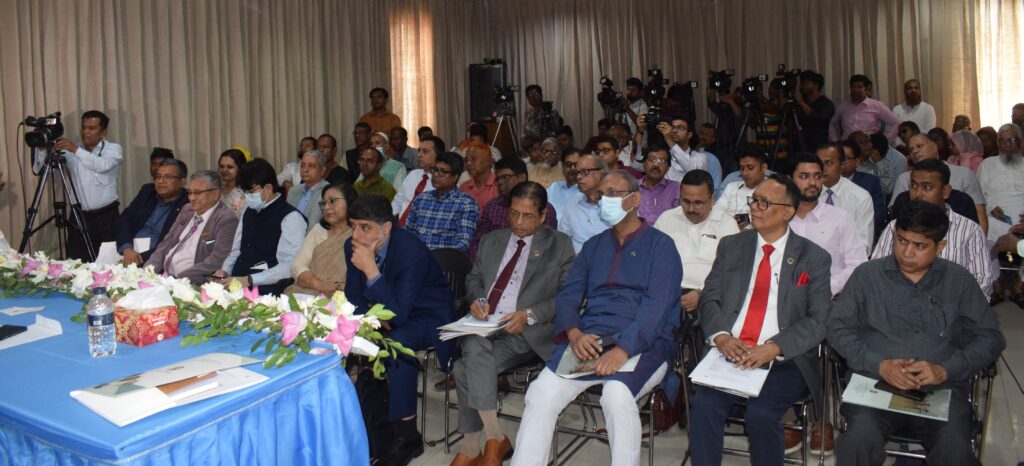 The paper presented also highlighted the issue of low integration in the regional context where India and Bangladesh reside. Sub-regional economic integration enables connectivity initiatives and greater trade with neighboring nations. The intention of international investment commitments such as the World Bank USD 1.4 billion projects signals to improve the trade and transport connectivity in Bangladesh. In the connectivity context of Bangladesh and India, even Nepal and Bhutan, the multi-modal routes are more viable and resource-saving. Dr. Rahman claimed to prioritize the readiness of integration initiatives, multi-modal transport protocol and logistical services.
Professor Dr. Delwar Hossain stated that Honorable Prime Minister emphasized on the importance of connectivity as it holds inclusive economic growth. Both leaders of India and Bangladesh are clearly aware about the importance and benefits of connectivity.
The Chief Guest, H.E. Pranay Verma, defined the intraregional connectivity as the people-to-people connection between these two nations. He emphasizes on leveraging cultural and historical relations, as well as geographic proximity, to enhance intraregional trade at the seminar on 'Multimodal Connectivity between India and Bangladesh', highlighting on commendable progress made in enhancing connectivity infrastructure in recent times by the joint efforts of two governments. Bangladesh remains the largest trade partner of India within South Asia and fifth largest across the world.
There are several opportunities laid under the connectivity-based trade facilities. He believes that it is a driver of deeper partnership of the two countries. Bilateral trade grows from USD 7 billion to USD 15 billion and the trade relation between both are structurally skewed. There is no doubt that the trade balance is still in favor of India, probably because their exports to Bangladesh largely constitute of raw materials or production inputs. Given that, there are initiatives taken to unlock the true potential of both countries. In continuation, some unprecedented movements have been undertaken by both parties based on their own capacity to improve economic relationship and trade through connectivity. As part of growing partnership, Bangladesh-India Comprehensive Economic Partner Agreement (CEPA) has singed up to harness each other and reach their set targets. It is believed that CEPA will ensure a more robust economic linkage of both nations and enhance trade by creating a new institutional framework as well as explore new ways like settlement of trade with Indian rupees. Moreover, he reinforced future connectivity issues between the two countries, which will be built through multi-modal connectivity, including road and rail, inland waterways, coastal shipping, and energy and digital connectivity. Considering the fact, Indian policy relies on 3-C including commerce, culture, and connectivity, there are significant policy formulation on improving connectivity with neighbors. On his presentation, he clearly mentioned that combined efforts of both nations can revive the old connectivity routes. There are few Land Customs Stations (LCP) that have full freedom to move all commodities, and hence Indian government is concentrating more on infrastructural development for establishing Integrated check-posts where services are fully automated. Removing barriers and installing e-channeling system will intensify more investment and boost bilateral trade. H.E. pointed out that quantity of protocol grows by 29 times since 2001-02. There are several key routes viz. Zakiganj to Karimganj, Sirajganj to Doikhoya where both parties created navigator through cost sharing. India has made investment on building in-land container port in Ashuganj along with the Agartola link railway which will facilitate multimodal connectivity.
Dr. Mostafizur Rahman mentioned that it took 47 years to reach the USD 1 billion trade with India, while only four years to touch the USD 2 billion mark. He emphasized on identifying comparative advantages of the two nations. Contrary, India exports inputs worth more than USD 6 billion in Bangladesh despite all initiatives taken so far. In addition, there is still a difference between the transportation corridors to economic corridors. There remains gap in translating comparative advantages to competitive advantages in the Indian market. Neelima Akhter (Additional Secretary, Road Transport & Highways Division) points that Honorable Prime Minister wants to build a hub of connectivity. She emphasized policy formulation and guidelines for the actors who would utilize the connectivity. The business community is the key role player to best use of multimodal connection between countries.
In the era of the four industrial revolutions, it is important to integrate an inclusive digital system for border connectivity as mentioned by the T.I.M. Nurul Kabir (Executive Director, Foreign Investors Chamber of Commerce & Industry). Ahsan Khan Chowdhury (CEO, PRAN-RFL Group) was present as a business figure currently importing goods in India. According to his opinion, mutual interactions are vital for doing intraregional business, and can help make an alignment of product standard between two countries. Poor infrastructure on Bangladesh part of Agartala-Akhaura border creates negative impact on trade from both country's perspective. Apart from importing products from Bangladesh, Mr. Khan proposed to consider utilize our capacity to make integration in agriculture with Northeast India for ensuring food security.
Traders like Mr. Khan and Shoeb Chowdhury (Vice President, India Bangladesh Chamber of Commerce & Industry) pointed out changing of mind sets which impede opportunities of making connectivity between the countries. Conversely, building "trust" between countries can also play pivotal role to change the mind sets, as stated by the Professor Dr. Syed Ferhat Anwar (IBA, University of Dhaka). He also reminded everyone to consider the maintenance costs of connectivity which is 11 percent higher than that of India and suggested addressing cost sharing approach by the connected nations.
Mr. Anisur Rahman (Joint Secretary, Road Transport and Highways Division) urged to include products' movement details in the Protocol so that everyone can understand where exported goods are going. He reiterated the fragile state of Akhaura port.
Attendants of the seminar raised some key points like benefits of Bangladesh through Ashuganj connectivity, financial sector's integration, and amount of export items in Nakugaon landport. Delay from India Bank on LC advising backdrops trading in both countries.