We are an independent
non-profit research organization
for policy advocacy, development
and cultural learning
Learn More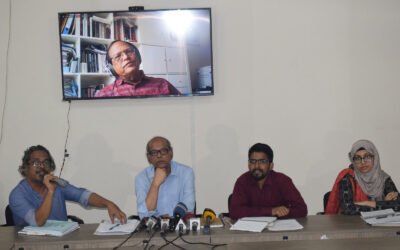 Dr. Atiur Rahman at Unnayan Shamannay's budget reaction session Former Governor of Bangladesh Bank and Unnayan Shamannay Chair Dr. Atiur Rahman considers the proposed budget for FY 2023-24 to be a reformist and optimistic one. He argues that the BDT 5,000 billion revenue target and the intention...
read more
Unnayan Shamannay has been in operation for more than 25 years. Its major strength is participatory research and advocacy. It works for climate-friendly inclusive sustainable development deriving its strength from the fighting spirit embedded in our society, culture, and history. We think Bangladesh is destined to become a developed country within a couple of decades.
Unnayan Shamannay organizes a seminar on the 'Multimodal Connectivity Between India And Bangladesh'. The intention of the program is to further facilitate discourse on improving multimodal connectivity between India and Bangladesh with the intention of bolstering trade between the two countries. High Commissioner of India to Bangladesh H.E. Mr. Pranay Verma will be present at this seminar as the Chief Guest. Our esteemed Chairperson and former Governor of Bangladesh Bank- Professor D

r. Atiur Rahman

will be presenting the background note and other key stakeholders (government officials, sector experts, representatives of business communities) will be participating as panel discussants.
Venue: Bishwo Shahitto Kendro (4th Floor), Banglamotor, Dhaka,
Tuesday, 02, May 2023 (Time: 09:30am to 12:00pm)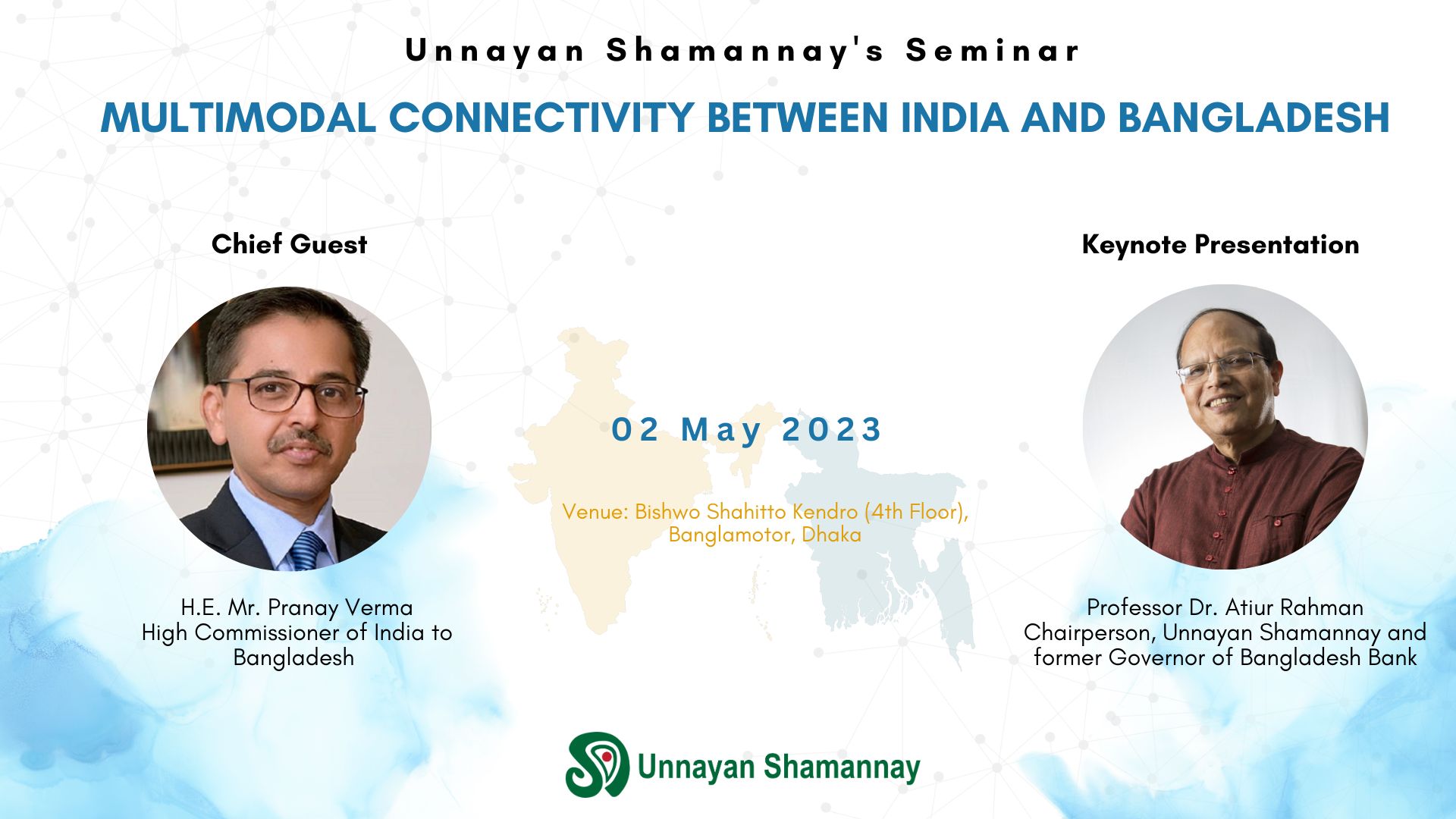 Effectively and efficiently applying both qualitative and quantitative research techniques in evaluating development projects, market research, stakeholder analysis, political economy analysis, impact assessment.
Along with organizing advocacy events such as seminars, exchange with the mass media professionals, participatory workshops, one-to-one interviews, focus group discussions etc.
Focuses on effectively communicating the research outcomes through carefully designed evidence-based advocacy campaigns at sub-national and national level.
Macroeconomic Update- May
Bangladesh's macroeconomic overviews for the month of May is illustrated here. It provides a summary of position of the key economic indicators for Bangladesh, such as inflation rate, export, import, manpower export, balance of trade, and private credit growth etc. These indicators can give insights into the health and performance of the economy. To provide macroeconomic updates, Unnayan Shamannay may use a variety of data sources, including official government statistics, data from international organizations such as the World Bank and the IMF, and other reputable sources. They may also conduct their own research and analysis to provide insights into the economic situation in Bangladesh. Unnayan Shamannay's macroeconomic updates can be a valuable resource for those who are interested in tracking the performance of the Bangladesh economy and staying up-to-date on key economic trends and policy developments.
Tobacco Tax Proposal for FY2023-24
Reviewing Health Sector Allocation: Budget 2022-23
Policy Brief: Strengthening Cigarette and Tobacco Uses Control Law (in Bangla)
Review of taxes on tobacco products for FY 2022-23 (in Bangla)
10 Years of MFS in Bangladesh: Post-COVID Field Realities (in Bangla)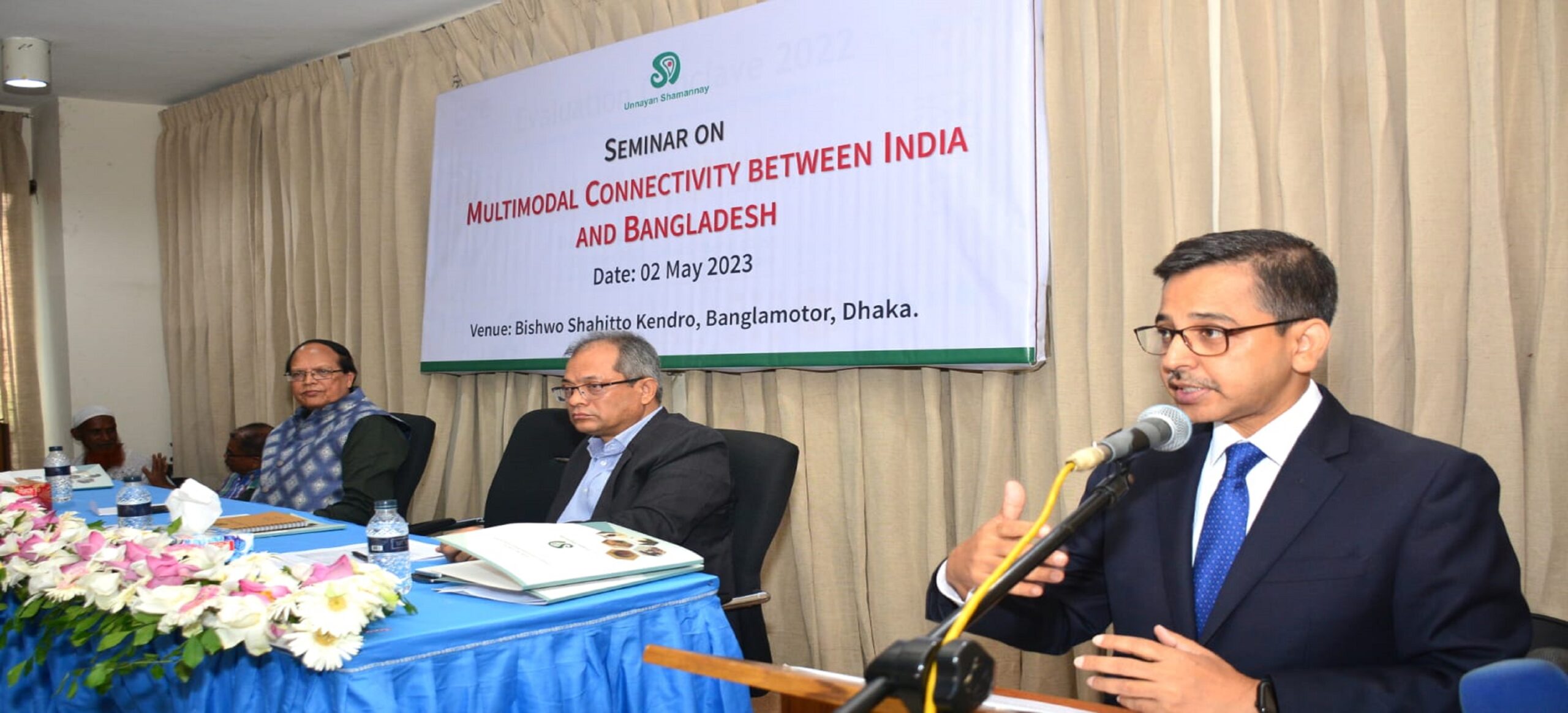 Shamunnay
A centre of excellence for research and developm1%ent

The purpose of Shamunnay is to be a catalyst for the innovative and indigenous approach of development, well being of the people or groups such as women, children, poor and marginalised groups, vulnerable, physically and mentally challenged through human approach.