– Civil society leaders at Unnayan Shamannay's dialogue session
The Government's Ministry of Health and Family Welfare has developed a draft to further strengthen the existing tobacco control act, which is awaiting finalization.

This amendment proposes to ban designated smoking areas in public places and transports, prohibiting sales of single stick cigarettes/bidis, banning e-cigarettes, stopping exhibition of tobacco products at points of sales, ban on CSR by tobacco companies, and increasing the size of pictorial warnings on the packets of tobacco products.
As these propositions, if realized, are most likely to significantly reduce use of tobacco in the country, this proposed amendment of the tobacco law has gained support from top policymakers including ministers, state ministers along with 155 honorable members of the parliament. It is also being widely supported by the civil society.
Given this backdrop, eminent economists and civil society leaders participating in a dialogue session organized by Unnayan Shamannay today (13 July 2023)- urged the government to finalize the tobacco control law amendment as soon as possible.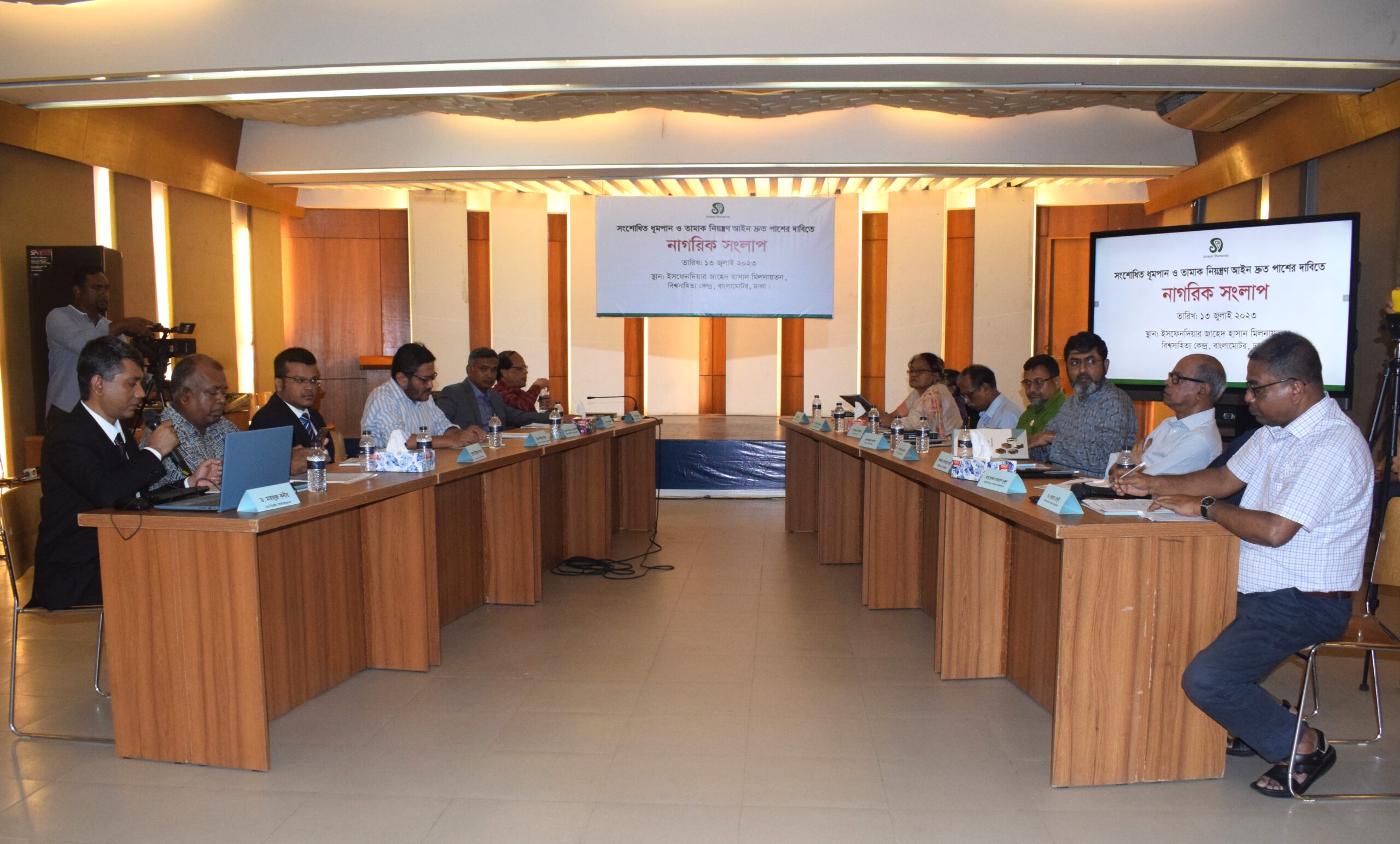 The citizen's dialogue session was Chaired by Unnayan Shamannay Chair and former Governor of Bangladesh Bank Dr. Atiur Rahman and Shaeen ul Alam, Head of Programs, Unnayan Shamannay moderated the session. Discussants were- eminent literary personality and Chair of the Bangla Academy- Selina Hossain, Central Committee Member of Bangladesh Mahila Parishad- Dr. Rokeya Khatun Rekha, Chief Editor of Shyamal Bangla Media- Dr. Abdul Hai Siddik, BFUJ Treasurer and eminent media personality- Khairuzzaman Kamal, Architect Iqbal Habib, and BIGD's Visiting Fellow- Khondoker Shakhawat Ali. Eminent economists participating at the dialogue were- Chairman of Research and Policy Integration for Development- Dr. Md. Abdur Razzaq, Research Director of BIISS- Dr. Mahfuz Kabir, CPD's Research Fellow Syed Eusuf Sadat, Professor of Economics, Dhaka University- Dr. Md. Shahadat Hossen Siddiqui, and Assistant Professor of the same department- Syed Naimul Wadud.
It was suggested by the discussants that strengthening the tobacco control law on the one hand, will safeguard the non-smokers from the effects of smoking, and on the other hand, it will significantly reduce the possibility of future generations using tobacco.